The 2018 School of Theology, Culture & Public Engagement
About
Held over four days in January 2018, the School of Theology, Culture and Public Engagement (STCPE) was designed to equip everyday Christians with the knowledge and skills to create, influence and engage with the various spheres of work and culture in which God has placed them.
Attendees were challenged by theological short courses and intensives from world-class lecturers and inspired by practical workshops from our partner organisations, CPX and Seed.
Our fantastic line-up of speakers included Lynn Cohick (Professor of New Testament at Wheaton College), lecturing on the topic 'Philippians Today', John Dickson, Andrew Errington, Rachelle Gilmour, Ben Myers, Keith Condie, Megan Best, Scott Stephens and more to be announced shortly.
The STCPE 2018 was open to both men and women, of all ages and levels – there are no pre-requisites or assessments.
The keynote short course was delivered by Lynn Cohick each day in the morning. Following this, attendees chose intensives and workshops from three parallel streams on offer throughout the program.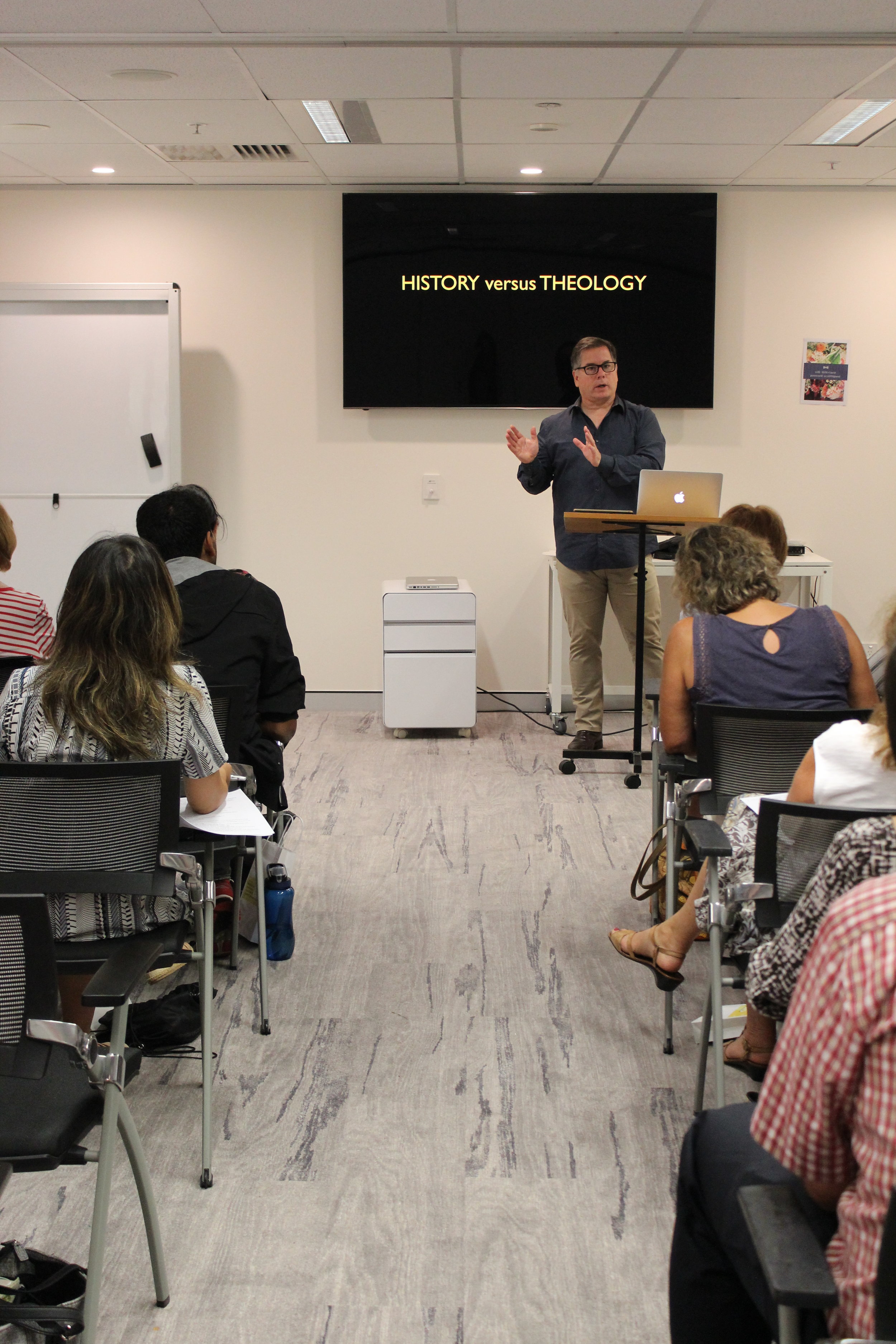 OUR JAN 2018 SPEAKERS & WORKSHOP PRESENTERS
LYNN COHICK – Philippians today
JOHN DICKSON – Historical Jesus – then and now
ANDREW ERRINGTON – Wisdom, creation and ethics
RACHELLE GILMOUR – Stranger things: Weird and wonderful stories of the Old Testament
BEN MYERS – Church and empire in early Christian thought – including Augustine's 'The City of God'
KEITH CONDIE – Theology and psychology
MEGAN BEST – End of life - bioethics and care
SCOTT STEPHENS – The media and its threat to the moral life
CPX – Engaging in the public square
CPX – What has Christianity ever done for the world?
SEED – Discover your purpose
SEED – Designing for change
LILY STRACHAN - How to... Navigate Mental Health Pastoral Care
ERICA OLIVER - How To… Apologetics
JO KADLECEK - How To… Write a Great Book Proposal
KIRRYN ZERNA - How To… Social Media
LYNN COHICK – Exegesis & Basic Hermeneutics
SHORT COURSES & INTENSIVES
PHILIPPIANS TODAY
Paul's letter to the Philippians offers rich theology, engaging cultural commentary and practical advice for living. We will explore each chapter, as Paul develops his views on Christ as suffering Saviour, and the believers' salvation and faithful witness. We will ask how Paul's message speaks to our society's questions today.
Lynn Cohick (Ph.D., University of Pennsylvania) is Interim Dean of Humanities and Theological Studies and Professor of New Testament at Wheaton College. Prior to commencing at Wheaton College in 2000, Lynn taught for three years at Nairobi Evangelical Graduate School of Theology in Nairobi, Kenya. Her research focuses on the ways Jews and Christians lived out their faith in the ancient settings of Hellenism and the Roman Empire, and how Jews and Christians today can better appreciate and understand each other. Lynn also explores women's lives in the ancient world, most recently focusing on Christian women in the early church. She enjoys studying the Apostle Paul and his epistles within their larger Jewish and Greco-Roman contexts. Her publications include Christian Women in the Patristic World: Their Influence, Authority, and Legacy in the Second through the Fifth Centuries (co-authored with Amy Brown Hughes, Baker Academic, 2017); Philippians in the Story of God Commentary (Zondervan, 2013); Ephesians in New Covenant Commentary (Eugene, OR: Cascade Books, 2010); Women in the World of the Earliest Christians (Baker Academic, 2009).
HISTORICAL JESUS – THEN & NOW
This intensive explores two central themes in the mainstream study of the historical Jesus: his controversial table-fellowship with those classed as 'sinners', and his wide reputation as a healer and wonder-worker. Employing a wealth of biblical and extra-biblical sources, and drawing on the latest secular study of the man from Nazareth, this intensive will set these two portraits of Jesus in their historical context, before asking: What do Jesus' meals with sinners and his work as a healer have to teach us about the role of the Church in contemporary society?
Rev Dr John Dickson has an eclectic story. Starting out as a professional singer-songwriter, he founded the Centre for Public Christianity in 2007, and now works as an author, speaker, historian, senior pastor, and media presenter. He has published 15 books, two of which have become television documentaries, with a third due for release in March 2018. He teaches a course on the Historical Jesus at the University of Sydney, Australia, and researches the origins of Christianity in the Roman empire. For 2017-18 he holds the status of Visiting Academic in the Faculty of Classics at Oxford University in the UK. In all that he does, whether in the media or the church, creative or academic, he strives to be a public advocate for the Christian faith in secularising times.
WISDOM, CREATION AND ETHICS
This intensive looks at some of the basic ideas that underpin Christian thinking about ethics. Drawing particularly on the book of Proverbs, it begins from the idea of wisdom and moves to look at the nature of creation. In contrast to the way wisdom has often been seen in philosophy and theology, wisdom in Proverbs is a deeply practical reality, anchored in the reality of the created world. Gaining clarity about these things helps us to recognise what is involved in moral discernment, and therefore in the work of Christian ethics. In our day, we sorely need more clarity about these issues.
Andrew Errington is an Anglican minister from Sydney, but still quite an interesting person. He is married to Lauren, a mental-health social worker and family therapist. They have three children. For the last few years, the Erringtons have lived in Aberdeen, Scotland, where they have learned the joys of picking berries and woodland walks, and where Andrew has been working on his PhD in Christian ethics, focusing on the book of Proverbs and the thought of Thomas Aquinas and Oliver O'Donovan. Prior to their time in Scotland, the Erringtons loved living in Sydney's Inner West, while Andrew served as a minister at Newtown and Erskineville Anglican Church.
STRANGER THINGS: DIGGING DEEPER INTO THE WEIRD AND WONDERFUL STORIES OF THE OLD TESTAMENT
God creates the world. Moses parts the Red Sea. David kills Goliath. These are Old Testament stories that we know well, and we probably feel comfortable applying their message to our Christian faith. But how do we make sense of some of the weirder stories, like angels mating with humans, talking donkeys, Samson's appalling behaviour towards women or the terrible fate of Lot's visitors in Sodom? These are also part of our scriptures! Looking at the language and historical background of some familiar, and some unfamiliar, stories from the Old Testament, this intensive will navigate its riches in storytelling and consider what our strategies should be in trying to understand some of the Bible's weirder stories.
Rachelle Gilmour is Senior Lecturer in Biblical Studies at BBI – The Australian Institute of Theological Education – and is a member of St Philip's Anglican, Church Hill. She received her Doctor of Philosophy in Hebrew Bible at the University of Sydney, and has researched as a postdoctoral fellow at the Hebrew University of Jerusalem and the University of Edinburgh. Dr Gilmour's main research interest is analysing biblical narrative from a literary perspective, and using these insights to learn more about the art of the biblical authors and editors, and their ancient conception of historiography. She has published a number of articles on these topics, as well as two books: Representing the Past: A Literary Analysis of Narrative Historiography in the Book of Samuel (VTS 143, Brill, 2011) and Juxtaposition and the Elisha Cycle (LHBOTS 594, T&T Clark, 2014). Her current focus is on collective memory and the Bible, including a project on prophecy and memory in the Book of Jeremiah.
CHURCH AND EMPIRE IN EARLY CHRISTIAN THOUGHT – INCLUDING AUGUSTINE'S 'THE CITY OF GOD'
This intensive will use the text Church and Empire, edited by Maria E. Doerfler in the Ad Fontes Series. The publisher's description of Church and Empire from Fortress Press reads: "The history of the church's relationship with governing authorities unfolds from its beginnings at the intersection of apprehension and acceptance, collaboration and separation. This volume is dedicated to helping students chart this complex narrative through early Christian writings from the first six centuries of the Common Era." You can view the Contents page here.
Ben Myers is moving to a new role in 2018 at the Millis Institute, a liberal arts program of CHC in Brisbane. His job will be to direct the various liberal arts degree programs as well as to teach in philosophy, theology, and literature. Prior to that, Ben was Lecturer in Systematic Theology at UTC (Charles Sturt University) and before that, he was a research fellow in intellectual history at the University of Queensland. His teaching and research focus on systematic theology, but he also has wide interests in literature, political thought and contemporary culture. He has been a fellow of the Center for Theological Inquiry in Princeton and a visiting scholar at Fuller Seminary, and is an Honorary Research Advisor to the University of Queensland's Centre for the History of European Discourses.
THEOLOGY AND PSYCHOLOGY
The Bible and contemporary psychology both make significant claims about what it means to be human, what is problematic in human life and what it means to flourish as persons. And often those claims are at odds. While some Christians remain deeply suspicious of psychology, this intensive will suggest that it is wise to make use of psychological insights derived from good science. It will explore the theological principles that undergird such a conclusion, as well as considering what psychology and theology can and cannot contribute to the task of promoting human wellbeing.
Rev. Dr Keith Condie is Co-Director of the Mental Health and Pastoral Care Institute at ADM. He is an Anglican minister who previously worked in pastoral ministry in churches in Sydney, and as Dean of Students and lecturer in ministry and church history at Moore Theological College. His PhD considered the place of meditation in the thought of Richard Baxter, a seventeenth-century English puritan pastor. He studied psychology many years ago, but has maintained an interest in the discipline and its relationship to theology since that time.
END OF LIFE - BIOETHICS AND CARE
A vote to change the law to legalise euthanasia was recently passed by the Victorian government. The bill before NSW parliament was defeated by one vote. This intensive will explore the community debate around decision-making at the end of life and the underlying tensions in our society between personal autonomy and protection of the vulnerable. We will consider the Biblical and pastoral perspectives which will help Christians respond to those who suffer at the end of life, and the need for a Christian voice in public debate.
Dr Megan Best is a researcher, bioethicist and palliative care doctor. She currently works in the psycho-oncology department at the University of Sydney and at the Institute for Ethics & Society at The University of Notre Dame Australia. She has worked in health ethics for over 20 years and is passionate about encouraging the Christian public to live out their faith in the choices they make in medical care.
THE MEDIA AND ITS THREAT TO THE MORAL LIFE
Does our media-saturated age pose a particular threat to the integrity and intelligibility of the moral life? This question has been occupying my mind for some time, all the more so because it is a question that is so rarely put. It seems not to have occurred to the vast majority of consumers of news and social media that their unprecedented ability to remain feverishly au courant and fashionably opinionated about whatever happens to be trending (what used to be called 'making the news') might have a detrimental effect on their capacity to cultivate and sustain something like moral attention. Or that the number of ways to 'get involved' or 'make your voice heard' or 'make a difference' afforded them each day could themselves be but paltry substitutes for – even distractions from – more ethically consistent and morally costly forms of collective action. Or even that the indiscriminate mingling of the true, the trivial and the blatantly manufactured within newsfeeds and on news sites might be producing feckless and increasingly nonplussed moral agents.
While the modern media poses immediate dangers for all people, these dangers should particularly concern Christians. Because our media-saturated age presents a corruption of precisely those forms of communication and practices of community on which the life of faithful discipleship depends and in which it consists.
Scott Stephens is Editor of the ABC's Religion and Ethics website, and co-host (with Waleed Aly) of the radio program 'The Minefield' on ABC Radio National. He is also specialist commentator on religion and ethics for ABC radio and television. He is currently completing a book under the working title, Idiot Wind: The Media and its Threat to the Moral Life.
SEED
Innovation that shows the world what Jesus is like.
Seed helps individuals and organisations design products, services and strategies that grow out of our Christian story and also bring positive change in society.
Seed works at the intersection between Christian formation and social innovation.
SEED WORKSHOP 1: DISCOVER YOUR PURPOSE
Find out how your story fits into God's story. Explore your identity and how this affects the change you might be able to make.
SEED WORKSHOP 2: DESIGNING FOR CHANGE
How can you apply a Kingdom-approach to your life? Explore a methodology for bringing about change that aligns with God's purposes.
CENTRE FOR PUBLIC CHRISTIANITY (CPX)
The Centre for Public Christianity (CPX) is a not-for-profit media company that offers a Christian perspective on contemporary life. CPX seeks to promote the public understanding of the Christian faith by engaging mainstream media and the general public with high quality and well-researched print, video and audio material about the relevance of Christianity in the 21st century.
CPX WORKSHOP 1: HOW TO… ENGAGE IN THE PUBLIC SPHERE
This workshop draws on CPX's 10 years of 'dropping the drawbridge' and walking into a public square that's sometimes hostile to (although more often naïve about) Christian faith. We will consider some dos and don'ts of public engagement, the importance of tone and the distinctive contribution Christians have to make to our increasingly-polarised culture. Attendees will also have the chance to workshop some concrete examples of tricky issues, implementing some of the principles of public engagement we've discussed, in order to communicate to a sceptical public in a way that is gracious, intriguing and winsome.
CPX WORKSHOP 2: HOW TO… TALK ABOUT CHRISTIANITY'S CONTRIBUTION TO THE WORLD
The atheist Christopher Hitchens famously wrote that, "Religion poisons everything". And increasingly, across the Western world, people are coming to think of Christianity as not just outdated or a bit irrational, but as actively harmful. From the Crusades to the child abuse scandals of recent years, sometimes it seems like the Christopher Hitchens of the world have a point. How bad have Christians been, really? How should we respond to those failures? And what about the other side of the story – are Western values like human rights, democracy, care for the vulnerable and marginalised, and the scientific outlook a legacy of the Christian faith, or the result of moving away from it?
This workshop weighs up the history; equips Christians with the apologetic tools to engage with some of the most common criticisms of their faith; and encourages them to have a humble but confident view of the contributions Christianity has made to the flourishing of both individuals and societies.
HOW TO… WORKSHOPS
HOW TO... NAVIGATE MENTAL HEALTH PASTORAL CARE
Nearly 1 in 2 Australians will face mental illness at some point in their lives. This seminar will explore how, as Christians, we can helpfully, practically and with theological robustness, care for and pastor those battling mental illness. Lily will highlight how speaking the truth in love can be of real benefit when providing pastoral care to those with mental illness.
Lily Strachan grew up in Sydney and first understood the truth of the gospel as a teenager. She studied politics, economics and law at the University of Sydney and worked as a corporate lawyer before resigning to give student ministry a go. Lily has since completed a Bachelor of Divinity at Moore College and is an ordained minister in the Anglican church. She works for the Australian Fellowship of Evangelical Students at Macquarie University where she has the privilege of sharing God's truth with a range of students of varying mental health. Lily has battled mental illness, with God's great provision and kindness, for 15 years.
HOW TO… WRITE A GREAT BOOK PROPOSAL
Publishing your book has never been easier—or more daunting. How do you know when your manuscript is ready and what do you do next?
Whether turning your life story into a memoir, your academic thesis into a mainstream work, or your personal devotions into a Bible study, this workshop explores the joys and challenges of writing for publication. It addresses the steps and options before, during and after publication.
Jo Kadlecek is a 2018 ADM Summer Creative Fellow. Originally from Colorado and most recently Boston, Jo Kadlecek now lives on the Sunshine Coast where she dabbles in playwriting, teaches memoir and fiction writing workshops, and serves part time with Women in Ministry at the Anglican Church of Noosa. With more years of teaching experience than she can actually believe, mostly in higher education, Jo sees the classroom, the written word and the stage as today's primary means of affecting culture. She has published novels, nonfiction works, and written articles for publications such as The Boston Globe, Huffington Post, North Shore Magazine, New York Post, Christianity Today, and Religion News Service. To feed her love of stories and to equip her for introducing others to the wonder and diversity of great literary works and plays, Jo earned a Master of Arts degree in humanities and another in cross-cultural communication. Story, she believes, is the bridge to understanding one another. And theatre provides an ideal setting for engaging with ideas unlike our own.
When she's not reading or writing, Jo walks her dog Clark Kent on the beach with her husband, enjoys coffee conversations with women from the church, or swims in an outdoor pool year-round (because it does not snow in Noosa). But at heart, she's an urban girl and is grateful that the Christian story is centred both on the Living Word (in an enduring book) and a City to which we look forward!
Jo's most recent books include "When Girls Became Lions"(Book Baby) a women's sports novel, and her memoir, "Woman Overboard: How Passion Saved My Life" (Upper Room Publishers) which is also available as an audio book that Jo read. Other books include "Desperate Faith: Lessons of Hope from the Resurrection" (Baker Books) and "Desperate Women: Lessons on Passion from the Gospels" (Baker Books).
HOW TO… APOLOGETICS
This workshop will consider common objections to the Christian faith such as the Bible, God and violence, and isn't faith just a psychological crutch? It will also consider sexual objections to the Christian faith. We live in a hypersexualised era and it's often questions about sex and sexuality that are the first, and biggest, barriers to the Christian faith. Erica will help us see how the church can respond to these questions in a way that loving and compelling.
Erica Oliver was born and raised in the Bay Area, California and became a Christian during her first year of studying history, at university in the Silicon Valley. In 2010 she moved to Sydney to study Pastoral Ministry, at Hillsong College; and afterwards, completed a BTh at Alpha Crusis College. Growing up in the most secular city in the USA, Erica always had an interest in objections to the Christian faith. This led her to study Apologetics at the Oxford Centre for Christian Apologetics, and Theology and Wycliffe Hall, Oxford after finishing her bachelors. She currently work for at St Marks, Darling Point as an evangelist and as a research aid for Dr. Michael Jensen.
HOW TO… SOCIAL MEDIA
This workshop will focus on how to create a social media plan that drives awareness for your cause (or idea/initiative). It will include topics such as:
Why social works for creating awareness

Creating and curating content for your cause

How to set up a plan for the year (with some automation tips)
Kirryn Zerna has worked with small and large businesses to create remarkable brand communications for over a decade, and now she builds that capability into the organisations that she works with. She combines her deep experience in corporate communications and copy writing with the latest research of social media management in order to deliver a tailored approach for her clients. Kirryn was recently awarded the 2017 Kerrie Nairn Scholarship by Professional Speakers Australia to assist the development of an emerging speaker to become an outstanding professional leader.
HOW TO… EXEGESIS & BASIC HERMENEUTICS
This will be a basics in exegesis workshop – it will be a broad sweep of the orderly way to read a biblical passage in English. We will likely look at a narrative passage in the Gospels and a didactic passage from an epistle. This will be a hands-on lesson in the various steps to work through a passage. If time permits, we will also introduce some hermeneutics – a basic set of questions that a reader can bring to Scripture to maximize their understanding.
Lynn Cohick (Ph.D., University of Pennsylvania) is Interim Dean of Humanities and Theological Studies and Professor of New Testament at Wheaton College. Prior to commencing at Wheaton College in 2000, Lynn taught for three years at Nairobi Evangelical Graduate School of Theology in Nairobi, Kenya. Her research focuses on the ways Jews and Christians lived out their faith in the ancient settings of Hellenism and the Roman Empire, and how Jews and Christians today can better appreciate and understand each other. Lynn also explores women's lives in the ancient world, most recently focusing on Christian women in the early church. She enjoys studying the Apostle Paul and his epistles within their larger Jewish and Greco-Roman contexts. Her publications include Christian Women in the Patristic World: Their Influence, Authority, and Legacy in the Second through the Fifth Centuries (co-authored with Amy Brown Hughes, Baker Academic, 2017); Philippians in the Story of God Commentary (Zondervan, 2013); Ephesians in New Covenant Commentary (Eugene, OR: Cascade Books, 2010); Women in the World of the Earliest Christians (Baker Academic, 2009).